The Mullingar Sustainable Energy Community (SEC) has welcomed the Government's announcement that it will pay for solar panels for schools as part of the summer works programme next year. 
The cost of the scheme will be covered by the Department of the Environment's Climate Action Fund will be distributed through the Summer Works Scheme for schools.
The announcement states that 100% of the cost of solar panels will be covered and the scheme is expected to be open for applications in the new year. This scheme is separate to the one announced recently by Minister Eamon Ryan which will give grants for solar panels for businesses and community organisations.
Welcoming the initiative, Cllr. Hazel Smyth, Chairperson of the Mullingar SEC, said: "not only will these additional solar panels contribute to our renewable energy targets, they will also significantly reduce energy costs for schools, which have risen to unprecedented levels over the past six months". 
The move was also warnly welcomed by a number of school principals in Mullingar. Michael Molloy, Principal of Holy Family School said:
"As a school principal, I very much welcome the fact that the Government will pay for solar panels for schools as part of the summer works scheme.
Obviously, this initiative will help the education sector meet its emission reductions targets but it will also serve as an excellent cost saver to schools in an era where energy costs are soaring.
The money saved with this initiative can be used to provide much needed educational resources in other areas within schools.
Our school has already its own biodiversity projects and this initiative would complement our immediate intention to develop our Green Schools and Active Schools projects. 
The Mullingar SEC is organising a public information event in November (date to be announced) at which representatives from all Mullingar schools will be invited to learn more about the scheme and how the SEC can help.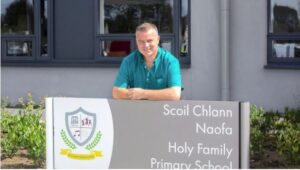 Pictured – Michael Molloy at Holy Family Primary School in Mullingar.